Being honoured with the prestigious UNESCO King Sejong Literacy Prize for 2023 is an incredible privilege. This recognition is a testament to our groundbreaking e-library program, which not only addresses the critical need for accessible digital educational resources but also fosters literacy learning for individuals from diverse linguistic backgrounds.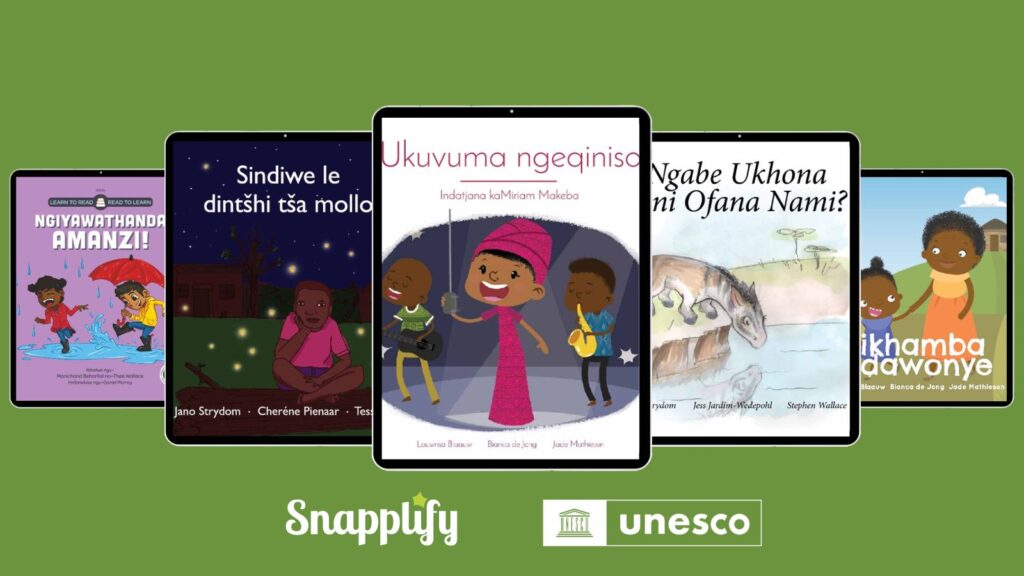 The inspiration for our e-library program stemmed from realizing the immense language diversity that exists globally. It became clear that accessing sufficient digital educational resources was a challenge, especially for learners from different linguistic backgrounds. With this in mind, our goal was to create a solution that would cater to these learners, enabling them to access educational content in their preferred language. The COVID-19 pandemic further emphasized the importance of remote learning and the necessity for easily accessible digital resources, making our e-library platform even more crucial.
One of the aims of our e-library platform is to promote mother-tongue-based literacy development in Africa. We offer around-the-clock access to engaging educational and leisure reading materials, with over 50,000 free eBooks available. Teachers can instantly share curriculum-aligned educational content and foster reading communities in their schools using insightful analytical data on student activity and performance. Language settings diversify the platform interface, and teachers receive language-specific training and support. We currently host content in all 11 South African languages and several other African languages.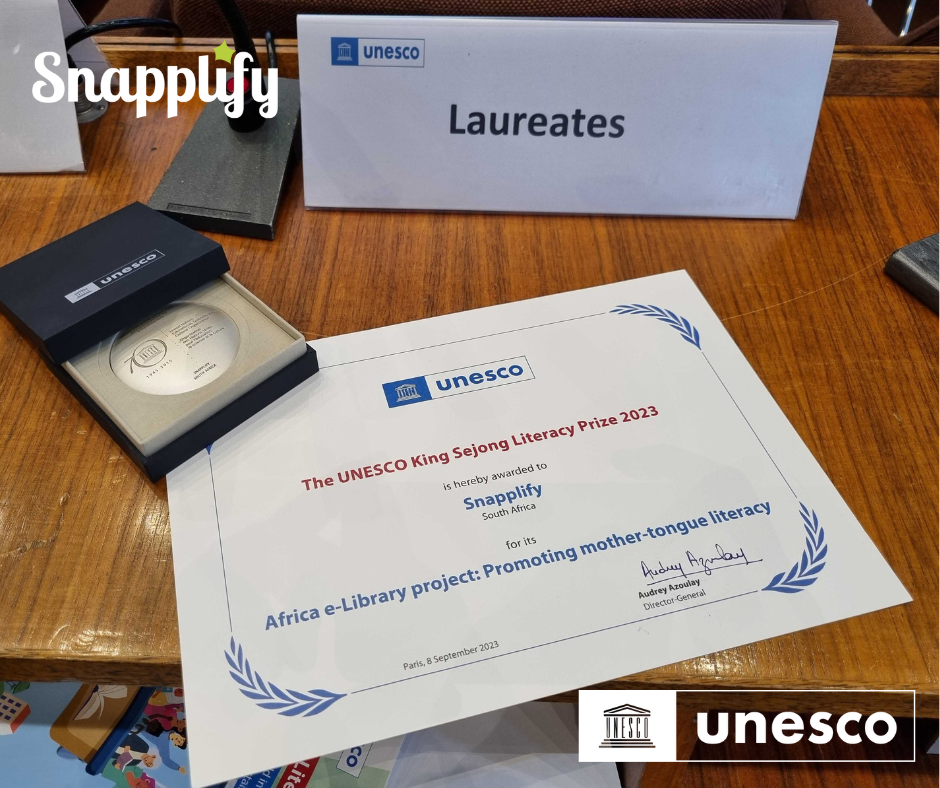 The impact of our Africa e-library project extends beyond the classroom. Through partnerships with local governments and over 1000+ local and international publishing and content partners, we have already equipped over 3 million learners. This project brings together educators, parents, and the wider community to inspire a love for reading and lifelong learning.
At the launch of the program in the Eastern Cape, South Africa, Government Partnership Manager Stephen Bestbier noted: "I was extremely proud of what we have achieved as a company and to see the impact that we are making in children's lives. It was quite emotional at times. We were very warmly welcomed by the entire community, from the oldest gogo's (grannies) to the village headsman, and our contribution to their children's education has been deeply appreciated. To see little children in some of the remotest parts of our country proudly reading out loud from books that they only have access to because of our work was extremely humbling."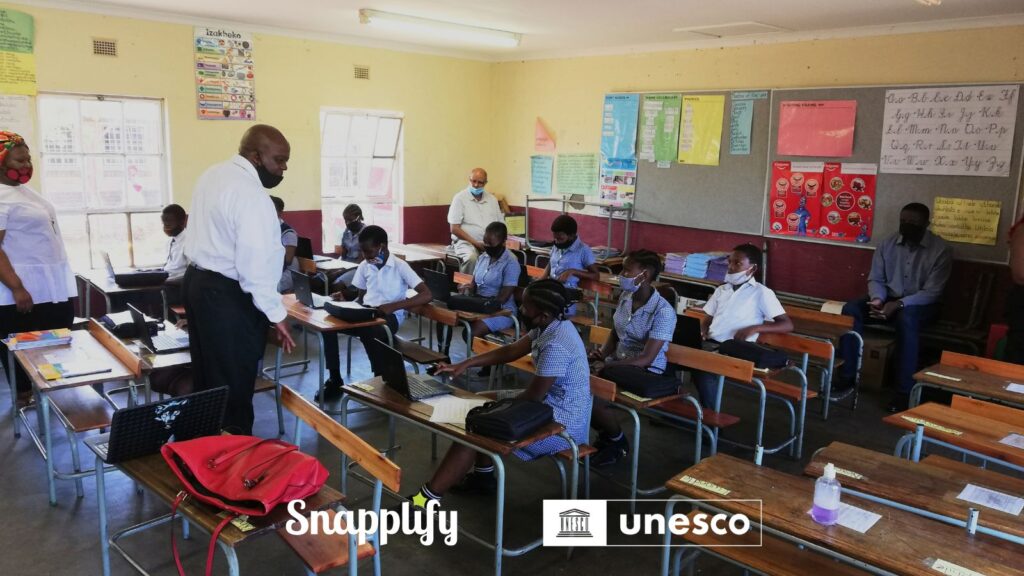 Our partnerships with educational departments in various regions have played a significant role in equipping thousands of students and teachers with the digital tools and resources they need to learn and teach effectively. Collaborations with departments such as KwaZulu-Natal, Gauteng, and Western Cape have been particularly successful.
At Snapplify, literacy skills should be intertwined with broader issues such as environmental consciousness, social justice, and cultural understanding. That's why our e-library program features multicultural literature with diverse characters, settings, and perspectives. This encourages empathy, tolerance, and cultural awareness while advancing literacy skills. The platform also facilitates discussions and analysis of literary works that touch on these broader issues, enhancing critical thinking, reading comprehension, and empathy.
We continuously adapt our e-library program to the rapidly evolving technological landscape, ensuring accessibility across various devices such as smartphones, tablets, and laptops. With personalized learning features and multimedia materials, learners can explore their interests and learn at their own pace. Our platform also continuously updates its digital content to meet users' evolving needs and interests, ensuring it remains relevant and engaging.
To expand our impact, we rely on the support of key stakeholders who share our mission to increase access to education. We invite governments, NGOs, and ministries of education throughout Africa to collaborate with us and expand the range of available content by adding more resources and books in local languages.
While the UNESCO King Sejong Literacy Prize is a tremendous honour, we see it not as an endpoint but as a stepping stone toward our greater goal. We aim to extend our technology solutions across the entire African continent, collaborating with governments, teachers, learners, and other education stakeholders to establish robust and sustainable digital learning ecosystems. Together, we can enable all African learners to access the best digital education tools and empower them for a brighter future.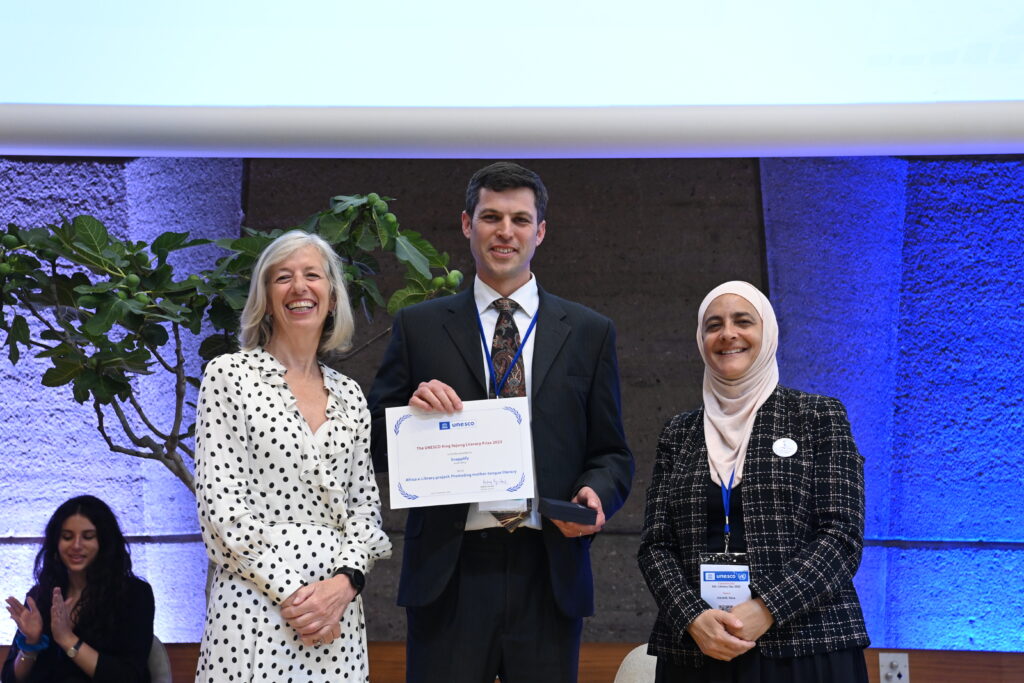 With #LiteracyDay as the catalyst, we call upon businesses, governments, and NGOs to unite in our shared mission to transform the future through literacy. By pooling resources, expertise, and networks, we can nurture empowered minds and bridge divides for lasting change. At Snapplify, we are dedicated to supporting others and creating sustainable global change through collaboration and innovation.
For more on our digital library and Reader app: see here or to partner with us, connect at hello@snapplify.com.
View the Snapplify e-library project video here.
See UNESCO's official press release here.
Stephen Bestbier represented Snapplify at the UNESCO Literacy Day Award Ceremony in Paris.